To search any individual's information online, it can be helpful to understand how Rhode Island free state records, such as criminal records, free marriage or divorce certificates, court records, employment history, and other important data can be found.
Learning the basic steps of how to access Rhode Island public information through local, state, and federal resources for free can help individuals gather data on another person.
Rhode Island State Record Requests
Rhode Island has a specific stipulation regarding who can access public records, called the Access to Public Records Act, Gen. Laws 38-2-1. This law states the Rhode Island Department of Health allows the right to access public records, with requests for records, documentation, and other information public to individuals.
Furthermore, individuals do not need to provide identification or the purpose of why they seek information. Searchers have the right to access public records without the necessity to state why.
In the scope of the Rhode Island law, a "public record" is considered documentation or other material that is relevant to official business by a government agency.
Furthermore, the Access to Public Records Act allows searchers to inspect or copy public records at a minimal fee. Lastly, individuals must keep in mind that there are over two-dozen exemptions to what is considered public record in the state of Rhode Island.1
Knowing if criminal records, court records, vital records, and inmate records are considered Rhode Island public records is helpful to searchers who wish to find more information about an individual.
Rhode Island Criminal Records: An Overview
Criminal records in Rhode Island are considered documents maintained by the local justice agencies, such as the courts, the Rhode Island Department of Corrections, and the sheriff's offices.2 The information found in criminal records contains the following:
Offense information
Trial court
Disposition and outcome
Incarceration information
Parole information
Post-conviction status
Photograph/mugshot
Personal information
Subject's name
Known aliases.3
Are Rhode Island Criminal Records Available for the Public to View?
Criminal records are Rhode Island state records, meaning that any person can find information on a person's arrest, trial, sentencing, conviction, parole, and post-conviction status after making a request.
Furthermore, individuals can find criminal records in Rhode Island through third-party sites. Although searchers can usually find the information they need by using state and federal resources, like county clerk offices, sheriff's offices, and the Department of Corrections website, using paid third-party sites can sometimes help return information quicker.
Ways to Find Criminal Records in Rhode Island
There are different methods of finding criminal records in Rhode Island.
Online
The quickest online method to finding criminal records in Rhode Island includes using the Rhode Island judiciary website and following these steps.
Visit the Courts RI website
Click on "Public Resource"
Click on "Access to Case Information"
Click on "Public E-Service Access"
Click on "Smart Search"
Enter a record number or name of the subject
Click on "Submit"
Click View the "Search Result"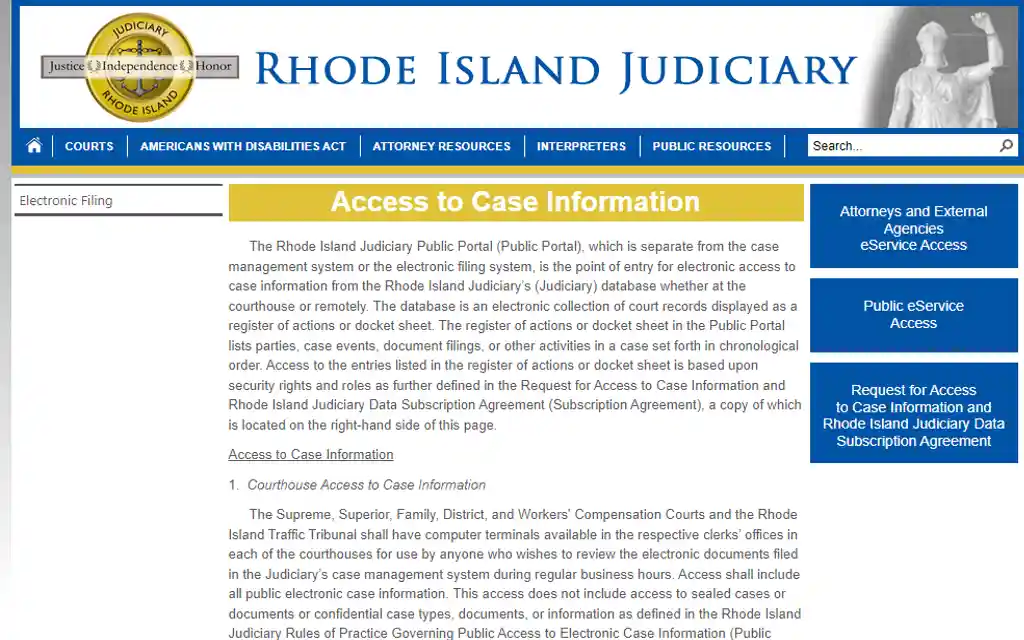 Offline
Another way to obtain criminal records in Rhode Island is to make an in-person request to the Bureau of Criminal Identification (BCI) in Rhode Island. The steps are as follows:
1. Visit the Customer Service Center at the BCI at the following address:
150 South Main Street
Providence, RI 02903
2. Bring a government ID and payment for the request
The other offline alternative to finding criminal record information is to use a mail-in service. Simply follow the steps below:
Gather a signed release from the subject
Include valid government ID
Include payment (check or money order)
Include the application and mail the packet to
Bureau of Investigation
Attorney General Julius C. Michaelson Customer Service Center
4 Howard Avenue
Cranston, RI 02920
For more information, our guide to conducting arrest and criminal records searches in Rhode Island contains an in-depth overview of criminal history information, custodians, and every county law enforcement agencies arrest log as well.
Juvenile Records in RI
Juvenile criminal records in Rhode Island include the information from a person's history when they were under the legal adult age. This information includes their arrest data, appearances in a court of law, and the court's decision on the juvenile's sentencing. In Rhode Island, a person is considered a juvenile if they are under 18 years old.
Since a person is considered a minor, juvenile records are confidential and can only be seen by court personnel.
Once the minor has completed their sentencing, whether it is through a correctional facility or probation, records are sealed.
The State of Rhode Island does not keep convictions, arrests, or criminal record information for juveniles who were not tried for serious offenses in a court of law. Minors with criminal cases that were transferred to adult court will then have adult criminal records that are publicly accessible.
How to Check for Arrest Warrants in Rhode Island (Free Warrant Search Information)
Arrest warrants in Rhode Island are court-ordered documents from a judge that allows police officers to take a person into custody once they have sufficient evidence the subject in question may have committed a crime or is connected to a crime.
Searchers can check for arrest warrants in Rhode Island by using the Adult Criminal Information Database. Individuals can visit the Rhode Island Judiciary website to access Public eService Access. It is then possible to perform a Smart Search for court records or to Search Hearings for court hearings for a specific date range.
Other methods that allow individuals to find those with arrest warrants within the state can do so by contacting a local law enforcement agency. For example, the sheriff's offices maintain current arrest records and warrants for their jurisdiction.
Lastly, individuals can use the Most Wanted List in the state of Rhode Island to view current arrests, warrants, and mugshots.2
How to Check Rhode Island Neighborhoods for Sex Offenders
The Rhode Island Sex Offender Registry contains a list of convicted offenders who have committed sex crimes and sexually motivated crimes within the state. The listing includes those with level 1, level 2, and level 3 conduct crimes.
The Rhode Island Sexual Offender Law dictates that all law enforcement agencies within the state must collect and maintain information on sex offenders in their jurisdiction to notify the public of their release from prison. Law enforcement must notify the community if a sex offender has recently been released or will be released in the near future.
The information held in the sex offender registry includes the following:
Individuals can use the Sex Offender Registry maintained by the Rhode Island State Police to search for sex offenders.
Visit the Department of Public Safety Website
Click on 'Safety and Education'
Click on 'Sex Offenders'
Click on 'visit the RISOR public website'
Click on 'click Here to Search for Offenders in Your Area'
Enter one of the following pieces of information:
In your area – Address, city, state, zip code
Name – last or first name
City
Non-compliant offenders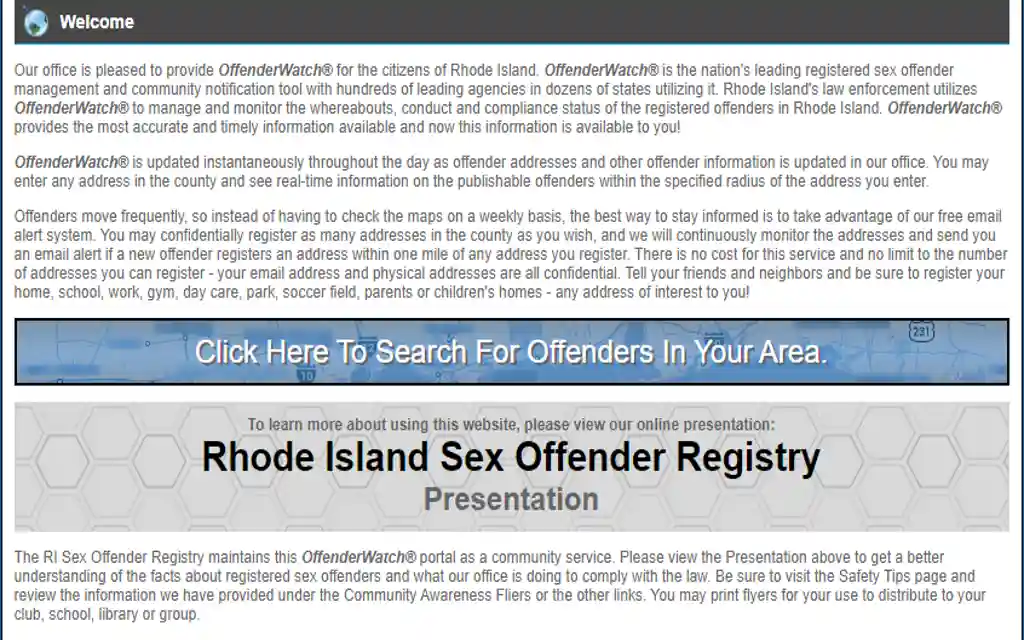 Searchers can also use the Rhode Island State Police website to find individuals specifically in Exeter, Rhode Island. The town of Rhode Island does not have a local law enforcement agency, so users must do the aforementioned steps to find sex offenders in their area.
A Guide to Background Checks in Rhode Island
There are different background checks used in Rhode Island to find out information about someone's past, whether as an individual or an employer. The two most common background types to use to find information are a name-based background check or fingerprint-based background check.
Criminal Background Check (State, Name-Based)
A state background check is performed using a person's name and date of birth. This type of search only contains records within the state of Rhode Island. The background check does not tell if a person has a federal record or a federal criminal offense.
There are a few ways to obtain a name-based background check in Rhode Island.
In-person
1. Visit AG's Customer Service Center in Cranston. The address is
Rhode Island Office of the Attorney General
4 Howard Avenue
Cranston, RI 02920
2. Bring a government ID
By Mail
Gather the following documents – signed release form, copy of valid government ID
Pay the fee of $5 via check or money order payable to BCI
Mail the envelope to the following address

–
Rhode Island Office of the Attorney General
4 Howard Avenue
Cranston, RI 02920
Third-Party Searches
For those who want to do a third-party search on another person, they will need the following:
Signed and notarized release form to the third-party
Copy of valid government ID
Check Or money order payable to BCI
Self-addressed return envelope
A criminal background check typically takes between 1-3 business days on average.4
FBI Background Check (Federal, Fingerprint-Based)
The second type of background check in Rhode Island is a background check that comprises all federal information on a person. This type of check requires consent and fingerprints from the individual to find out information in the FBI database.
Individuals must obtain fingerprints from the subject (the subject must obtain fingerprints from a USPS location to submit electronically)
The searcher can fill out the online background check information through the FBI website.
The alternative is to use a mail-in method by filling out the information form, obtaining a set of fingerprints on the standard fingerprinting card, submitting payment online or using a money order or cashier's check, and sending the items to the following address

–

 150 South Main Street, Providence, RI 02903
An employment background check usually takes between 2-5 business days.5
Rhode Island (RI) Court Records Explained
Rhode Island contains different levels of the court system which handle cases separately.6 The different levels of court in Rhode Island are as follows:
Supreme Court — appeals from the lower courts, administrative cases, courtside support
Superior Court — criminal cases, all felonies, civil cases over $5,000
Workers Compensation Court — all matters about workers' compensation claims
District Court — criminal cases, civil matters under $5,000
Family Court — domestic relations, juvenile case, domestic violence cases
Traffic Tribunal — all non-criminal matters about traffic cases
Search for Rhode Island Court Records Using State Records
Searchers can find information related to Supreme Court cases, Superior Court cases, Family Court cases, District Court cases, and Workers' Compensation Court cases through computer terminals in the court clerks' offices in the courthouses.
For any person who wants to look at the court documents filed through the case management system, users can utilize the free terminals in the courthouse during business hours.
The access available to the public includes electronic case information but does not include sealed cases, confidential case types, confidential documents, or information that is restricted through the Rhode Island Judiciary Rules of Practice and Public Access Rules.
For the public to gain access to case information remotely, individuals can gain access electronically to a docket but will not be able to view other case information. The only people who can view further information related to the court records include attorneys, state agencies, or federal agencies.
Rhode Island Bankruptcy Information
Rhode Island Bankruptcy records are kept through the Rhode Island Bankruptcy Court. Searchers can obtain this information in a few ways:
Inmate Records & Information in Rhode Island
Rhode Island inmate records contain official documents about those incarcerated within the state. Criminal records contain information about the criminal history of a person, including status, location, release date, parole date, crime committed, etc.8
Inmate records are public knowledge according to the state of Rhode Island. Therefore, third-party websites and governmental resources can be used to access RI inmate records. To find inmate records, searchers should know the basic information, such as the location of the record and the name of the subject.
Searchers should do the following before they begin to use governmental resources:
Find where the inmate is being held
Determine if the subject is in local jail or prison
Determine if the location contains online inmate records
If there are no online records, contact the record custodian
If there is no custodian information, contact the county clerk, county sheriff, city jail, Rhode Island Police Department, Rhode Island Department of Corrections, or Bureau of Prisons
Further information for jail inmates and prison inmates can be seen below.
See if Someone Was Arrested Recently or in Jail
Individuals can look up jail records and recent arrests by contacting local and regional jails. To find an offender in a county or regional jail, searchers should look at the local law enforcement website to see their inmate list or contact information.
Choose the local county or regional jail in which the person may have been arrested
Search '(County Name) Regional Jail' in a search engine Ex: Coventry inmate search
Click on the Coventry Police Department website
View the CPD Facebook from their website, online crash reports, or Sex Offenders list

OR, use the contact information to call (401-826-1100) or email the sheriff
Searchers can contact one of the following sheriff's offices to locate an inmate in the jail:
Kent County Sheriff's Office & Kent County Jail
222 Quaker Lane
Warwick, RI
401-462-2285
Newport County Sheriff's Office
45 Washington Square
Newport, RI
401-847-1306
Providence County Sheriff's Office
670 New London Avenue
Cranston, RI
401-275-2900
Washington County Sheriff's Office – McGrath Judicial Complex
4800 Tower Hill Road
South Kingstown, RI
Courthouse: 401-782-4131
How Can I View Mugshots in Rhode Island (RI)?
Individuals can usually view mugshots in Rhode Island by determining where a person is being held. After using the local county jail contact information or online resources to look at recent arrests or speak with an employee, searchers can then look at the respective sheriff's office website to find information on recent arrests, incidents, and mugshots.
There are four county sheriff's offices in Rhode Island: Providence County, Kent County, Washington County, and Newport County. Individuals can call or visit one of these sheriff's offices using the aforementioned contact information to find an inmate.
Check for Rhode Island Prisoners (State & Federal)
Individuals can find Rhode Island prisoners at a state and federal level by doing the following:
Visit the Rhode Island Department of Corrections website
Click on Family and Visitors
Click on Inmate Search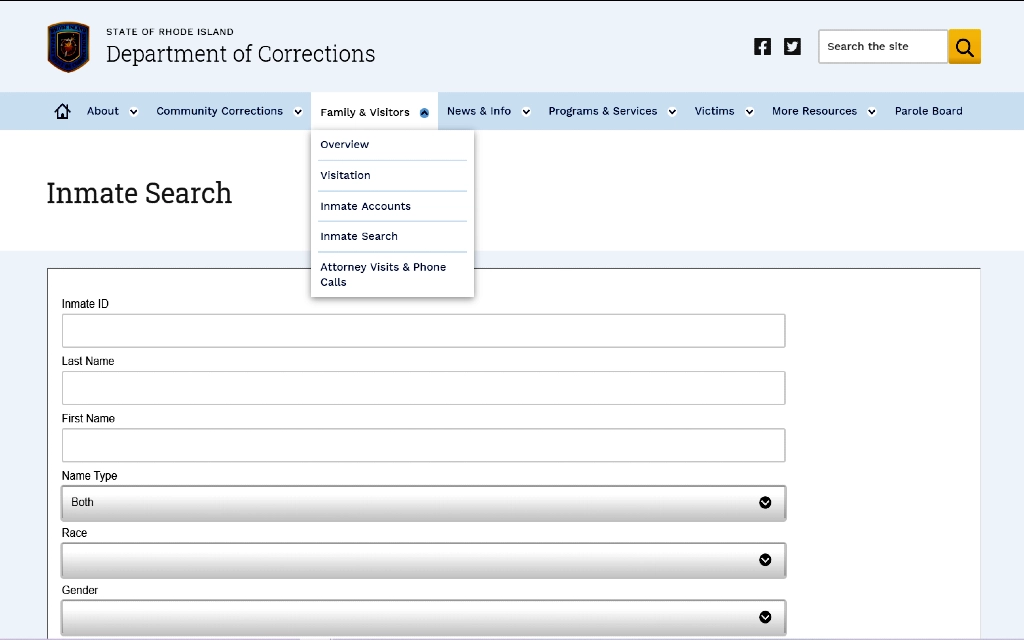 Searchers can also use VINELink to find a current inmate:
Use VINE to search for a current inmate
Input inmate ID, last name, first name, race, gender, minimum age, maximum age, and last known city
Click 'Search' to view the Results
Searchers can also contact the RI Department of Corrections by using the following contact information:
Those who committed federal crimes can be found by using the Bureau of Prisons Inmate Finder even though all RI federal offenders will be transported elsewhere in the US.
Rhode Island Vital Records at a Glance: See Free Marriage Records in Rhode Island
Vital records contain information regarding birth, death, marriage, and divorce certificates. These records of life events are kept by governmental authorities at both the county and state levels.9
Vital Records in Rhode Island – Can Anyone View Free Divorce Records in Rhode Island?
In Rhode Island, vital records are confidential. Vital records can only be viewed by those who have a direct and tangible interest in the records. Vital records become open to public viewing after 50 years for death records and 100 years for birth records.
How to Check for Marriages & Divorces in Rhode Island
Searchers can visit the Department of Health website and click on 'Birth, Death & Marriage Records'.
Then, individuals can click on 'Get a copy of a birth, death, or marriage record'. The only people who can access vital records for marriages and divorces are the subject, close family, attorneys at law, person who needs the information for personal or property rights, or a person with a court order.
However, third-party search sites do not have the same restrictions and may provide further insight as to vital records, or traces of them that were found across the web. Regardless of this, RI divorce rates for each county are still published through the U.S. Census Bureau and can be seen below.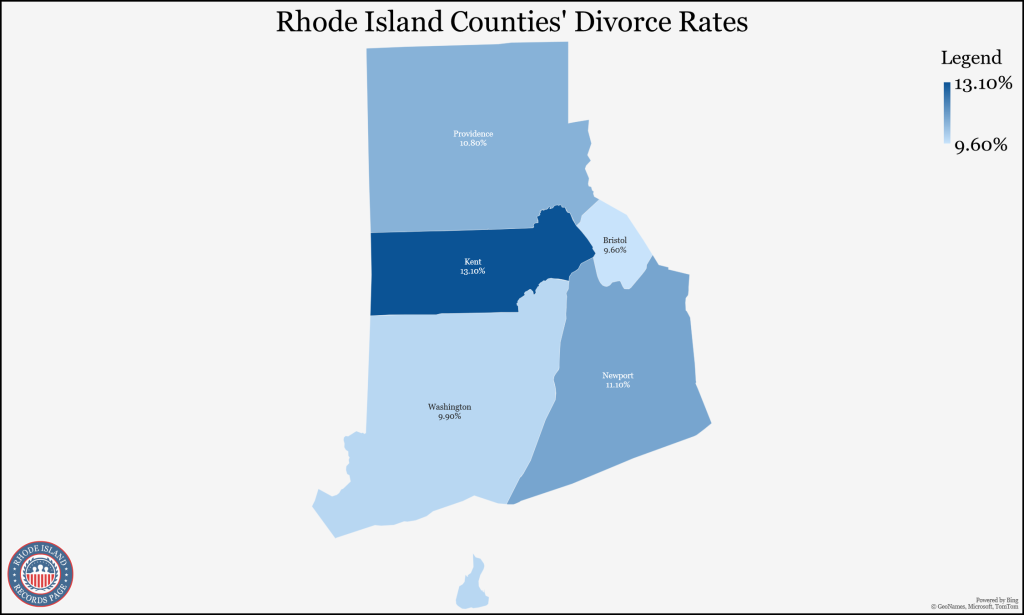 Those who meet the aforementioned criteria can check for marriages and divorces by using VitalChek online or by phone, or by in-person appointment only at the Rhode Island Department of Health's Center for Vital Records, a town clerk's office, or a city clerk's office.
Where Can I Get a Copy of Birth Certificates or Death Certificates in RI?
Individuals can access Rhode Island's vital records through the Rhode Island Department of Health. The Vital Records Office is located at the following address:
Simpson Hall
6 Harrington Rd.
Cranston, RI 02920
Searchers who wish to find information about vital records online should visit the Department of Health website and click on 'Birth, Death & Marriage Records'. A birth certificate is a document issued by the government that records a birth for statistics, tax purposes, and census information.10
Then, users can decide if they want certified copies of a birth certificate, death certificate marriage, or certified single marital status letter. Or, users can download copy request forms for a birth certificate, marriage certificate, death certificate, or pre-adoption birth certificate.
For certified copies, searchers will have to download the Birth Certificate Request form or the Death Certificate Request form, attach a government-issued photo ID, and send the request form to the Vital Records office.
1Know Your Rights: Access to Public Records in RI. (n.d.). ACLU Rhode Island. Retrieved June 1, 2022, from <https://riaclu.org/en/know-your-rights/know-your-rights-access-public-records-ri>
2Rhode Island Most Wanted. (2022). Rhode Island State Police. Retrieved June 2, 2022, from <https://www.rimostwanted.org/>
3Information about Criminal Records. (n.d.). Legal Aid at Work. Retrieved June 2, 2022, from <https://legalaidatwork.org/factsheet/records/#>
4Korolevich, S. (2021, February 10). How Long Does A Background Check Take? GoodHire. Retrieved May 28, 2022, from <https://www.goodhire.com/blog/how-long-do-background-checks-take/>
5How Long Do Pre-Employment Background Checks Take? (2022, May 25). Indeed. Retrieved May 28, 2022, from <https://www.indeed.com/career-advice/career-development/how-long-do-a-background-check-take-for-a-job>
6Courts in Rhode Island. (n.d.). Ballotpedia. Retrieved June 2, 2022, from <https://ballotpedia.org/Courts_in_Rhode_Island>
7Voice Case Information System. (n.d.). MSCCM. Retrieved June 1, 2022, from <https://www.msccm.com/newsletters/Voice%20Case%20Information%20(7-03).htm>
8Inmate records. (2022). Law Insider. Retrieved June 2, 2022, from <https://www.lawinsider.com/dictionary/inmate-records#>
9Vital record. (2022, 28 May). Wikipedia. Retrieved June 1, 2022, from <https://en.wikipedia.org/wiki/Vital_record>
10Birth Certificates. (2018). ABA. Retrieved June 2, 2022, from <https://www.americanbar.org/groups/public_education/publications/teaching-legal-docs/birth-certificates/>
11Rhode Island Judiciary. Accessed 6 May 2023. <https://www.courts.ri.gov/Pages/access-caseinfo.aspx>
12Rhode Island Sex Offender Registry. Accessed 6 May 2023. <https://www.sheriffalerts.com/cap_main.php?office=56404&__cf_chl_rt_tk=0iKUJdmAtVZiVG8.z.4ugPoJg5a73W5P39Zu3fg6Vzc-1654115024-0-gaNycGzNCT0>
13Rhode Island Department of Corrections, 23 February 2022. Accessed 6 May 2023. <https://doc.ri.gov/inmate-search>