Start your search for free Rhode Island criminal records through official agencies and learn more about someone's past or current situation.
Rhode Island arrest records and criminal proceedings are made available by Rhode Island Access to Public Records Act (APRA) — you just have to know where to look.
This guide provides everything necessary to find arrests, mugshots, criminal history, probation or parole status, arrest warrants, background check reports, prisoner records, and more, which makes locating public criminal records quick and efficient.
Does Rhode Island Allow the Public Access to Criminal Records & Arrest Records?
Due to the state's Rhode Island Access to Public Records Act (APRA), RIGL § 38-2-1, Rhode Island guarantees its citizens the right to view public records including criminal and arrest records of government agencies at all levels.1
Public records as defined per Rhode Island law are all types of documents regardless of their physical form that are produced pursuant to laws and ordinances when connected to official business by government entities.
Anyone can request criminal records without needing to provide a reason why—however, pursuant to RIGL § 38-2-6 of APRA, it is unlawful to use the information from public records for commercial purposes, whether with the intention to solicit or gain a commercial advantage. APRA has a 10 day window to respond to a request, if this time period elapses, the request is deemed a denial.
APRA makes it such that members of the public can inspect public records of which criminal and arrest records are, for free or for a minimal fee. The law is not absolute, and not all records are available for public consumption including medical research, juvenile criminal records and sealed criminal records.
Our free Rhode Island public records search guide offers readers more details on how to find other information — such as court records, marital records, and more — that's available to the public.
The Rhode Island Access to Public Records Act is legislated similarly to the Freedom of Information Act (FOIA) which is a federal law that permits citizens access to documents and records produced by federal agencies with exemptions such as confidential business information, law enforcement records and records pertaining to national security.2 
Differences on What Shows Up on Criminal Records Searches vs Arrest Records Searches in RI
Arrest records and criminal records are similar in that they both involve interactions of members of the public with law enforcement agencies—however, there are some differences due to the reasons why both sets of records are produced.
Criminal records also known as rap sheets are generated by law enforcement agencies once offenders have been placed into custody, charged with a crime and have been through court proceedings; they include data such as date, convictions and other court decisions.
When individuals have been arrested on suspicion of a crime, they are taken into custody, booked and charged with that crime. They are presumed innocent and have not yet gone through court proceedings yet to determine if they are guilty. These records will have information such as the arresting agency (police department) and bond amounts set if any.
Criminal Records Include Information Such As:
Offender ID
Last and first name
Middle initial
Name type
Gender
Race
Last residence
Security
Case number
Count
Date imposed
Retro date
Sentence status
Description
Good time release date
Arrest Records Consist Of:
Names of the arrestee
Inmate ID
Case number
Commit date
Disposition and date of disposition
Bail type
Bail amount
How To Find Recent Rhode Island Arrest Records & Mugshots for Free (See Why Someone Is in a RI Jail)
Members of the public can find recent arrests in Rhode Island using a number of government entities—these include county sheriff's offices, city police departments and in some cases, through the courts.
While the courts do contain some arrest records, they may not be ideal for finding recent arrests as the cases may take time to go to court.
Government agencies may sometimes have online rosters that make it easy and quick to find out if someone is in jail; these tools are usually free for public consumption. County sheriff's offices and city jails that do not have an online arrest report can be contacted via phone or by visiting the law enforcement  of concern.
Perform a County Arrest Records Search in Rhode Island Through Local Sheriff Offices
Rhode Island has 5 counties all of which have sheriff's office departments that can be used to locate Rhode Island arrest records. Rhode Island is among a handful of states with a unified correctional system, and all the county sheriff's offices fall under The Rhode Island Division of Sheriffs which works in conjunction with the Rhode Island Department of Corrections (RIDOC).3
This means that all arrestees and pre-trial detainees in the counties are held under the jurisdiction and administration of the Rhode Island Department of Corrections—thus, all the online rosters in use are shared with the Department of Corrections.
It should be noted these rosters don't have photographs of inmates that are typically derived from a mugshot database which is created when inmates are booked and photographed by county sheriff's offices in other states.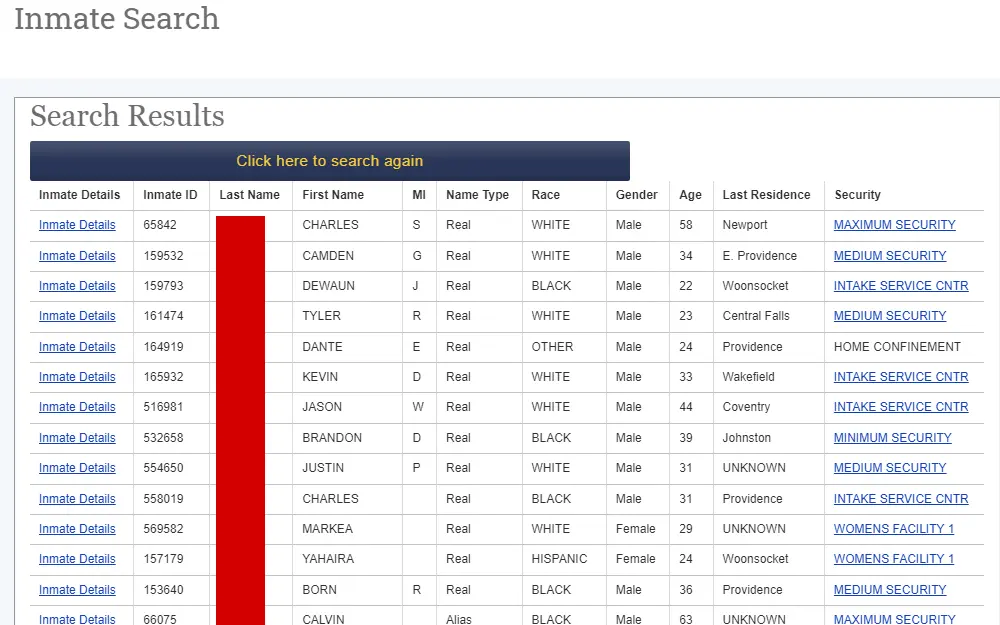 The table below can be used to contact the sheriff's office to find out someone's charges in jail in all counties in RI. All the links point to the inmate roster maintained by the RI Department of Corrections. Some local sheriff's may have county jails to hold inmates before they are moved to the RIDOC facilities at Cranston.
Lookup Arrests Through Rhode Island's Police Departments & Municipal Jails
Citizens may also find recent arrest records from municipal or city jails that are located in Rhode Island if county sheriff's offices yield nothing.
There are a number of police departments that can be contacted to find out what someone was arrested for, but none of them maintain any form of online database. Contact must therefore be through either phone or making an in-person visit to find out who's in jail.
To locate the city jail contact information, type in the name of the police department that oversees that jail using a search engine such as Google and establish contact to find the inmates. Simply search the city the arrest may have occurred + arrest search i.e. "Providence Rhode Island arrest search."
Here are the major police departments in RI and links to their contact page so individuals can call to check for recent arrests:
How Do I Contact an Inmate in Jail & Bail Them Out in Rhode Island (RI)?
Inmates in Rhode Island as mentioned before are held at the RIDOC facilities in Cranston and citizens looking to contact loved ones and friends will abide by the agency's protocols. Members of the public may also bail out defendants who have been granted bail while awaiting their trial.
Contacting an Inmate
Citizens can contact inmates through 3 main ways in Rhode Island jails:4
In-Person Visitations—It is possible to visit inmates, but this is a privilege and not a right that must be approved and can be denied or revoked if visitors violate state laws and/or DOC policies.5 Each facility will have their own visitation protocols and schedules for visitation and should be contacted before making a visit.
Mail—Inmates can send and receive mail in RI jails and prisons.6 All mail should be sent to the post office box for the facility where the inmate is located. All mail is inspected and no money and contraband should be included in envelopes.
Phone—Inmates are not allowed to receive calls but can make telephone calls which are limited to 20 minutes.7 Pre-paid calls are made using an ADVANCE PAY prepaid account and/or using funds placed in the telephone debit account. All telephone calls are monitored and the RIDOC sets a schedule when the inmate can make the call.
In addition, Securus and the RIDOC provides an automated way for the public and inmates to obtain information that is specific to an inmate over the phone including:
Criminal charges
Bond information
Visitation times
Inmate ID
Inmate location
How to send money
How to send mail
This can be done by calling 401-414-2871.
Bailing Out an Inmate
Judges will decide whether a defendant can be released into the community pending trial or remain in custody—the process of being let back into the community may involve the posting of money (surety) as a security to ensure the defendants future attendance of court dates and they remain peaceful while out in society.
There are generally 3 forms of bail in Rhode Island including:
Personal Recognizance—This is the most common form of bail in RI typically for misdemeanors and does not entail posting of a surety, rather simply has the defendant promise to appear for any future court dates and maintain good behavior and keep the peace.8
If the defendant fails in these two promises, the bail can be revoked and they will be placed into custody after a bench warrant is issued.
Surety Bail—Surety bails are usually required for defendants with serious crimes to ensure that they appear in any future court dates. In RI, defendants are required to post 10% of the amount set by the judge. If they are unable to post this amount, they can employ the services of a Rhode Island bail bondsman who will help post the required amount.
If the defendant attends all hearings and once the case is resolved, they will receive all their money barring the bondsman's and any related court fees.
Hold Without Bail—This scenario plays out in extreme cases where the defendant may be facing a possible life sentence. In these cases, the court holds the defendant without bail at the prison pending trial. Crimes that warrant this bail include murder, burglary, robbery and rape.
How To Search for Rhode Island Criminal Records Through Official Channels
Members of the public have several agencies from which they can source Rhode Island criminal records and will be expounded in subsequent sections below. They include:
The Rhode Island Bureau of Criminal Identification (RIBCI) under the authority of the AG of the state of Rhode Island.
Public Access to Court Electronic Records (PACER) database to retrieve appellate court records and records of federal offenses. Searching is typically free but the records may incur a nominal cost at $0.10 per page and maximum of $3.00 per document.
Citizens may also obtain criminal records through county courts by either visiting the clerk of the courts or through its unified database at Rhode Island Judiciary Public Portal.
To obtain criminal records that are not confined to the state, a national background check through the Federal Bureau of Investigation (FBI) is performed.
Conduct a Criminal Record Search in Rhode Island's Through County Courthouses and/or County Clerks of Court
Court records are deemed public records due to Rhode Island's APRA act and can as a result be accessed via the clerk of the court or remotely through the Rhode Island Judiciary Public Portal (discussed below).
Criminal records from all counties in RI can be obtained from computer terminals that are present in the clerk's offices of the respective county courthouses.
It should be stated that this access does not include:
Sealed documents
Confidential case files
Any information defined pursuant of the Rhode Island Public Access Rules pertaining case Information access such as juvenile case files, child custody case files and adoption case files.9
Court records as per the Rhode Island Public Access Rules can be accessed by members of the public at no cost but there are fees associated with printing and/or certifying court records.
This table provides the address and telephone contact for all county courthouses in Rhode Island.
County
County Courthouse Address
Phone Number
Bristol County
6th Division District Court
Garrahy Judicial Complex
One Dorrance Plaza
Providence, RI 02903-2719
401-458-5400
Kent County
3rd Division District Court
Noel Judicial Complex
222 Quaker Lane
Warwick, RI 02886-0107
401-822-6750
Newport County
2nd Division District Court
Murray Judicial Complex
45 Washington Square
Newport, RI 02840-2913
401-841-8350
Providence County
Garrahy Judicial Complex
1 Dorrance St,
Providence, RI 02903-1741
401-458-5400
Washington County
4th Division District Court
McGrath Judicial Complex
4800 Tower Hill Road
Wakefield, RI 02879-2239
401-782-4131
Use the Rhode Island Judiciary Public Portal To Perform a Public Criminal Record Search
As mentioned earlier, Rhode Island has a public records repository for all court records from county courts in the state known as the Rhode Island Judiciary Public Portal.
It can be accessed for free and can be accessed at the computer terminals in the court house or from a personal computer—it remains the entry point for electronic access to case information from Rhode Island's judiciary database.10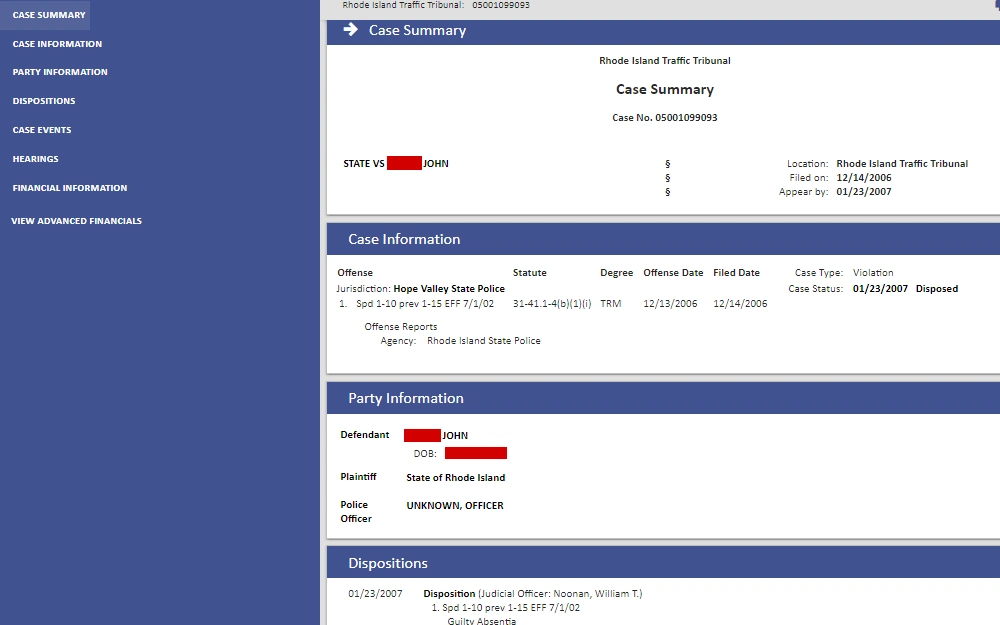 As seen in the image below, the portal can queried using:
Names of the parties
Inputting a business name
Attorney's name
Case number
Court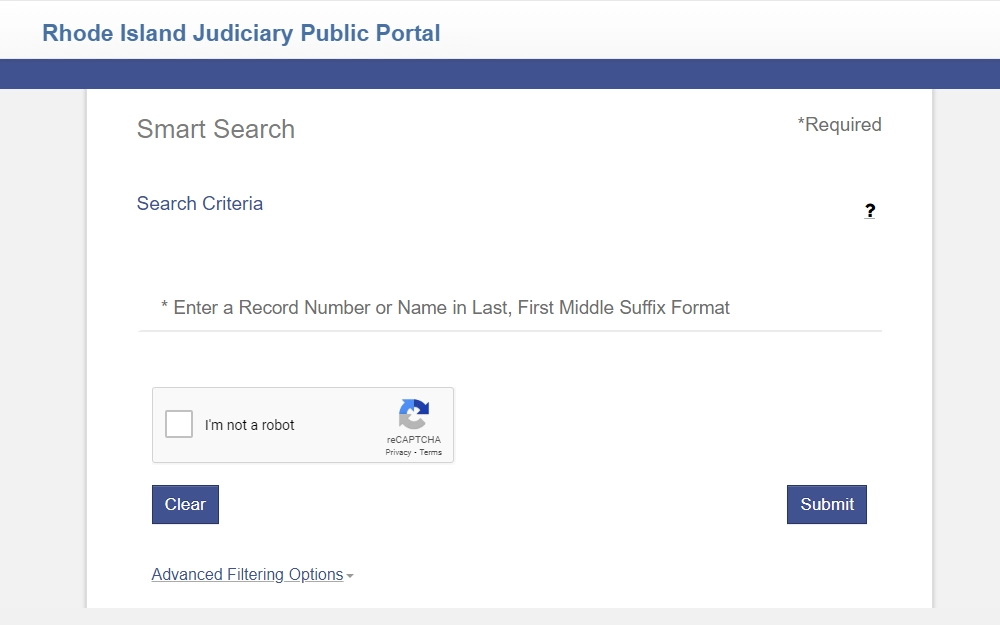 How Does Someone Obtain a Copy of Criminal Records in Rhode Island?
One of the primary reasons that copies of criminal records are required is for verifying employment eligibility but they could also be used for vetting potential tenants—whatever the reason may be, there are easy ways that allow the public to obtain copies of criminal records in RI:
They may be obtained from the Rhode Island Bureau of Criminal Identification (RIBCI) who are the primary repository for criminal records. Copies requested must be done with consent for:

State Background Checks—These searches are confined to state records and are named based.
National Background Checks—This type of check is fingerprint based and is a national type that is often required for purposes for employment such as caregivers. National background checks will be discussed in the sections below.

Copies of criminal records may also be obtained from Rhode Island courts using the Rhode Island Judiciary Public Portal. The process of obtaining these records was discussed in the previous section.
The Attorney General through the Rhode Island Bureau of Criminal Identification (RIBCI) is tasked with providing state and national background checks to members of the public.11
RIBCI conducts two types of background checks in the state:
Name Based Searches
Finger Based Searches
Both of these processes are described in depth under the background check section below.
How To Check & See If Someone Is on Probation or Parole in Rhode Island
The Rhode Island Department of Corrections Probation & Parole unit oversees the supervision of residents in the community either granted parole by the parole board or those that have been placed on probation by courts.13
Parole is a process by which a parole board grants the release of inmates from prison into the community under strict rules and conditions set by the parole board—they are typically considered for it once they complete a third of their sentence.14
Conversely, probation is a court ordered prison sentence that is suspended on provision that the offender abides by prescribed rules and commits no further offenses.
To illustrate just how many people are on probation and parole, the following image shows the combined total of probationers and parolees in Rhode Island, along with their ethnicities.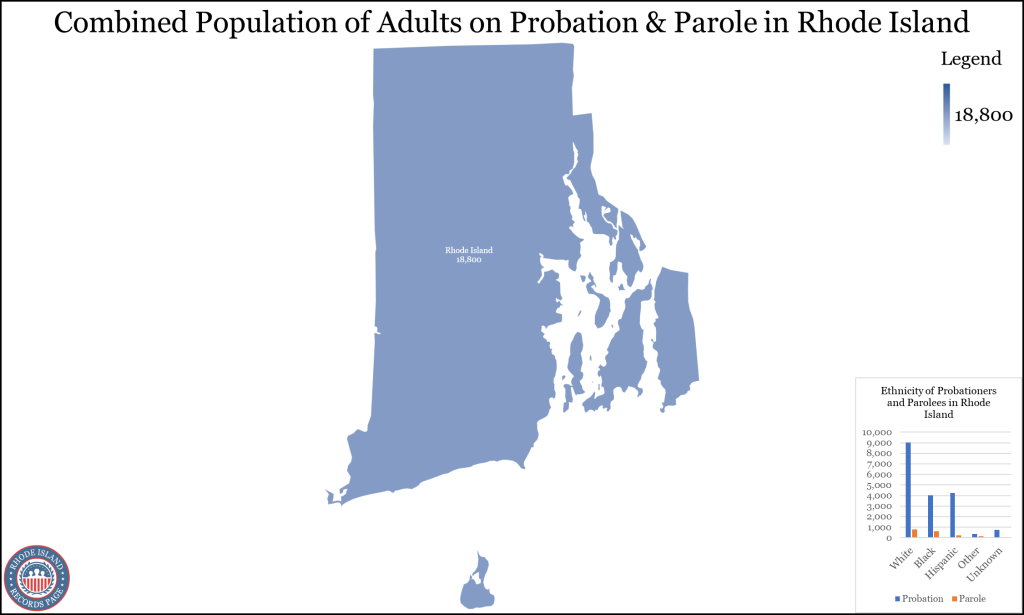 There are two ways in which citizens can find offenders who may be on probation and/or parole:
Performing a probation search using the Rhode Island Probation Search Tool which can scour the parolee database of inmates in the state prison managed by the Rhode Island Department of Corrections.
Since the courts issue probation orders, members of the public can also search for court records using the Rhode Island Judiciary Public Portal to find out whether someone is on parole.
How To Begin Expungement or Sealing Process in Rhode Island: 'Erase' Criminal Records in RI
Interested individuals who are looking to expunge or seal their records will need to contact the Office of the Attorney General – Rhode Island Bureau of Criminal Identification to determine whether they are eligible for expungement—however, the process of expungement will take place with the courts.
Expungement is the process by which Rhode Island criminal records of convictions are destroyed or sealed from court records and an order of expungement will direct the court to view the criminal conviction as if it did not take place.15 Expunction will help provide relief from effects of having criminal records such as being barred from securing employment, housing and other needs.
All criminal records cannot be expunged and only particular crimes such as misdemeanor crimes and some non-violent felonies can be sealed.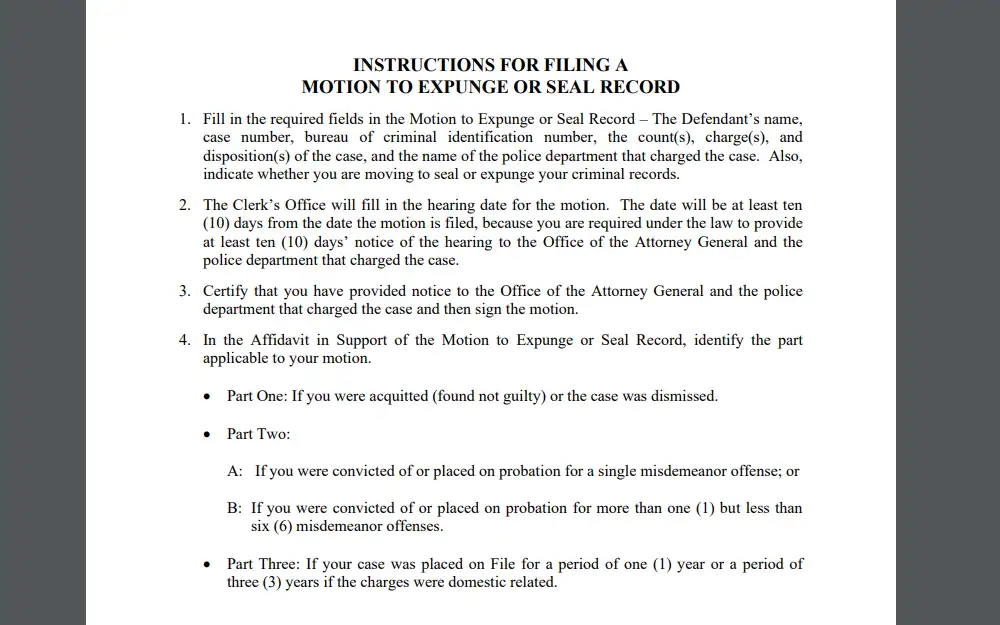 To initiate the process of expunction, individuals should:
To determine eligibility, citizens can visit the Attorney General's website, and fill out the Expungement Online Application to make a determination if they are eligible for expunction. Information collected through this form will allow the R.I. Office of the Attorney General to search their criminal history and make a determination on eligibility.
Obtain all criminal records from the BCI (this process has been outlined above) and proceed to the Judicial Records Center to request certified copies of cases that are over 3 years old. This is located at:
Proceed to file a motion using the Motion To Expunge or Seal Record Form with the clerk of court where the charges and/or convictions took place. A copy of the motion should be brought to have the petitioner's signature notarized.
A court date for a hearing will then be given and the notice of the date of this hearing will need to be dropped off at the police department that made the arrest and the Attorney General's (AG) office. This can be done in person or mail.
Attend the court and prove that criteria for eligibility for expunction is met.
After a successful grant of motion, copies of the order should be provided to the AG's office and the police department that brought the charge. Make sure to keep the original in case any agency may mistakenly disclose expunged records.
After about 2 months of the grant, obtain a copy of criminal records to ensure the record was expunged.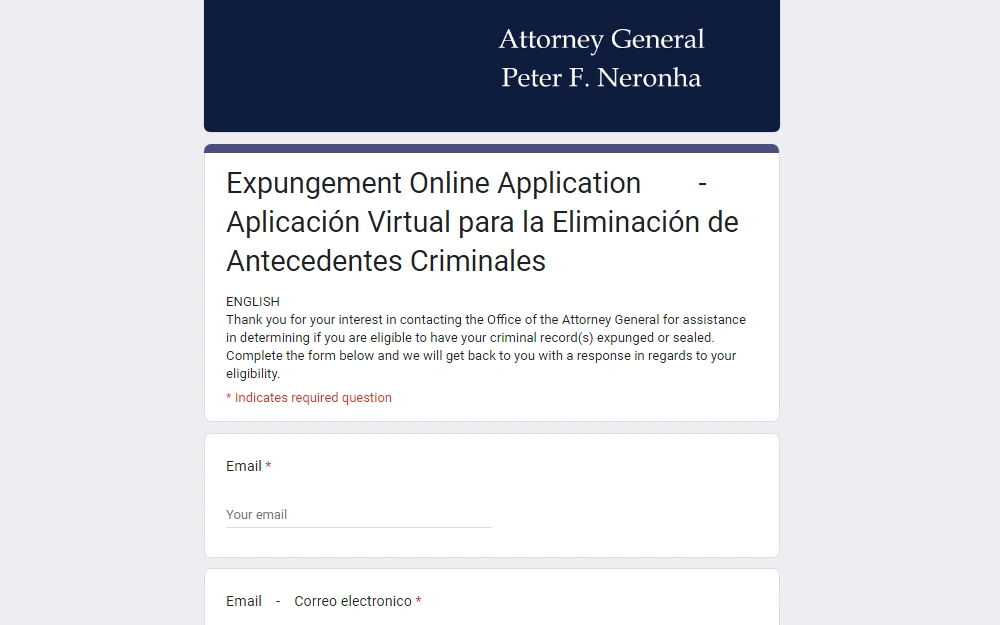 It is advisable to enlist counsel to file the motion for expunction as sometimes the process may be complicated and during the hearing to prove to the judge that expunction eligibility is justified.
While an expunction means an offender does not have to disclose a charge they were convicted for, there are certain exemptions pursuant to RIGL § 12-1.3-4 (b) where they will have to make a notification of their criminal past including:16
Seeking a law enforcement position
Acquiring a teaching and/or coaching certificate
Operator of an early childhood education facility
Admission to the bar of any court in RI.
In addition to this, pursuant to RIGL § 12-1 3-4 (c), certain agencies and individuals will still have access to expunged records:16
The owner of the expunged record
A court order
Law enforcement agencies
Bar agency when considering a bar admission
Commissioner of elementary and secondary education etc.
How Do I Locate an Inmate in a Rhode Island State Prison or Federal Prison?
Rhode Island has one Adult Correctional Institution (ACI) located in Cranston consisting of seven buildings that houses male and female state prisoners and is managed by the Rhode Island Department of Corrections (RIDOC)—the state has no federal prisons.17
Members of the public should contact the RIDOC to locate state prison inmates and may turn to the Federal Bureau of Prisons (BOP) for inmates that may be located out of state.
Rhode Island State Prison Search: The Rhode Island Department of Corrections (RIDOC) has jurisdiction of the facility at Cranston which includes a maximum security prison.
RIDOC has a database of its prisoners as mentioned briefly before and has a Rhode Island State Prisoner Search Tool that can be used to quickly and easily find inmates at its ACI. It requires no registration and is free to use and can be used to find daily arrests since county inmates are housed in RIDOC facilities.
This tool can be queried through a number of criteria namely:
Inmate ID
Full and last name
Name type (alias or real)
Race
Gender
Minimum and maximum age
Last known city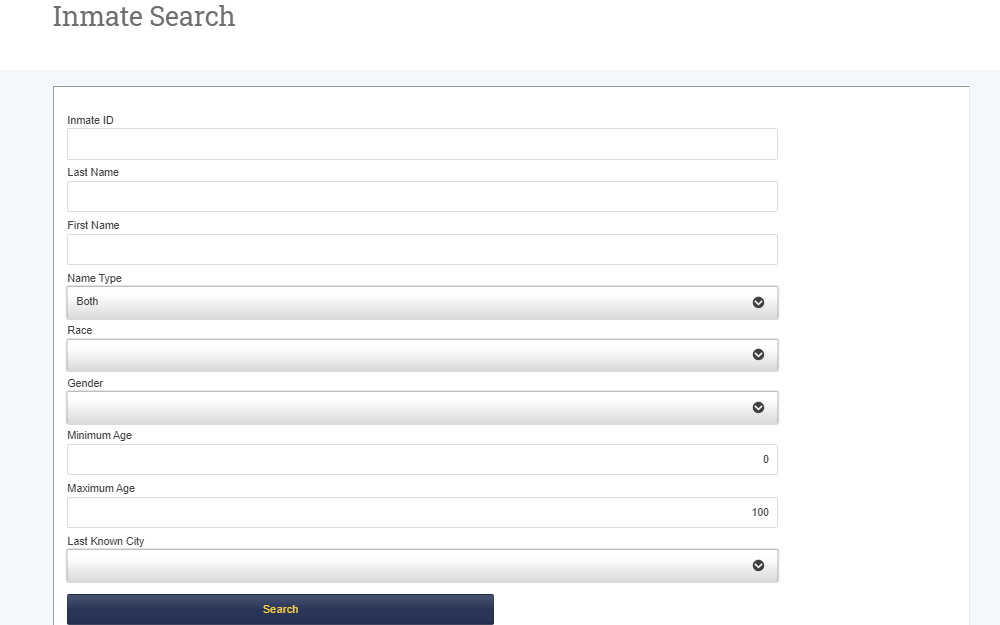 Federal Prison Search: There isn't a federal prisons in Rhode Island, however when an offender is convicted for a federal offense, they will likely be sent out of state to serve out their sentence in a federal prison which is maintained by the Federal Bureau of Prisons (BOP).18
The BOP has a felony registry which can be queried using a Federal Inmate Search Tool that can be used to swiftly find a federal prisoner incarcerated after 1982. Querying can be done using either their BOP number or last name. This online directory for federal inmates is free for use by the public and requires no registration.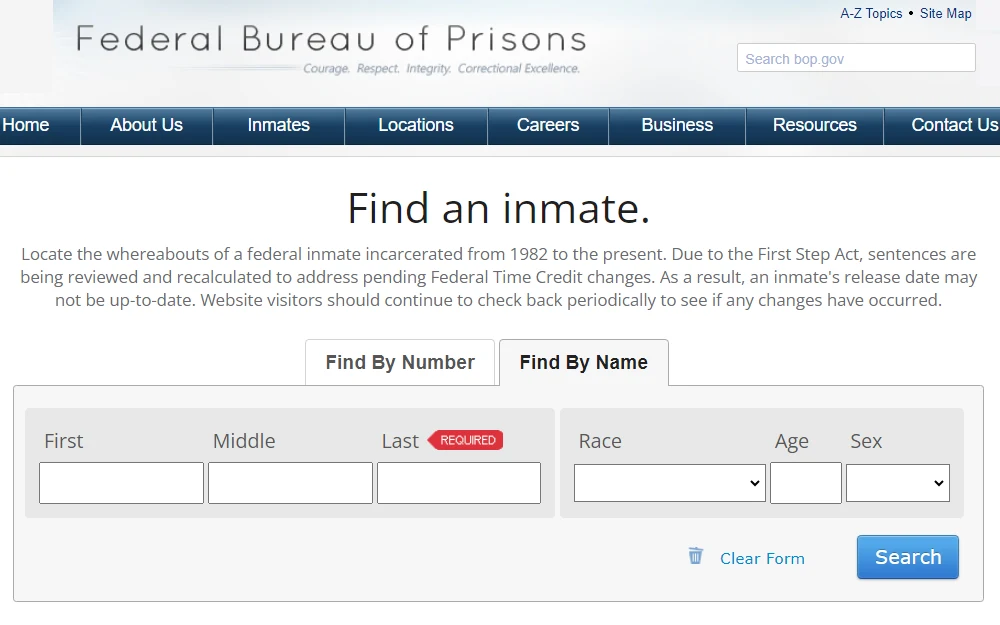 How To Perform a Warrant Search in Rhode Island (RI): See If You or Someone Has an Arrest Warrant
Warrants are issued by the courts in Rhode Island, and as such citizens who are looking to find a warrant out for their arrest should contact the Rhode Island Judiciary.
The Rhode Island Judiciary's Rhode Island Warrant Search Tool can be used to obtain a warrant list accurately, quickly and at no charge to interested individuals.
To Find Warrant Information:
Click on the Rhode Island Warrant Search Tool.
Input the name of the person that is being searched at the top of the page.
Proceed to the warrant section and select the warrant type.
Filter by the warrant status.
Choose the range of dates in which the warrant may have been issued.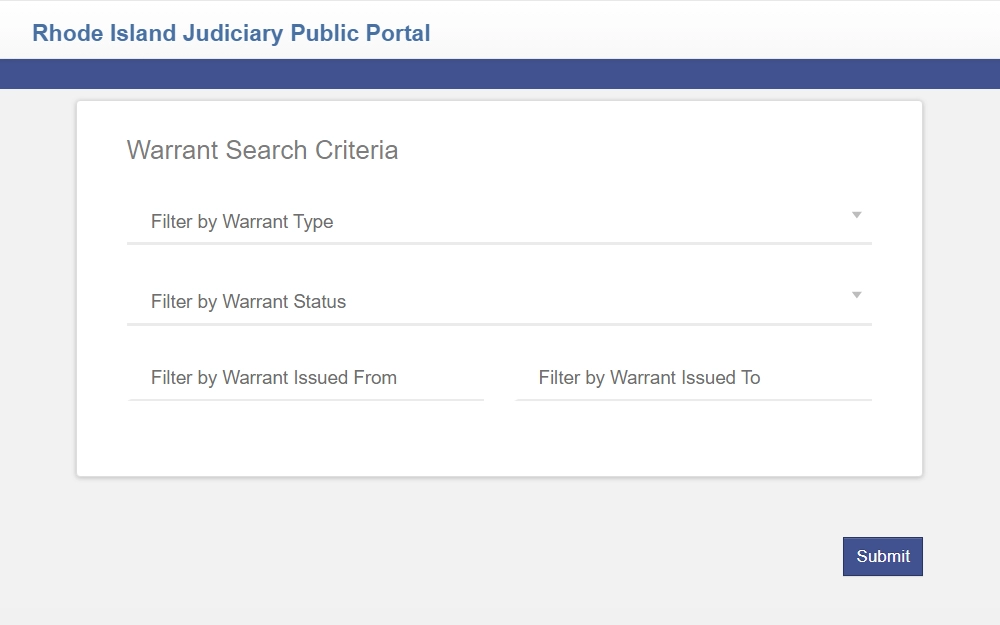 A Look at Background Checks in Rhode Island
Background checks in Rhode Island are generally done for:
Personal uses
Professional reasons
The state does allow individuals to carry personal background checks on themselves and others. However, personal background checks conducted for other individuals must be done with consent by having them sign a release form, even if they are name based searches as discussed earlier.
These background searches through the Rhode Island Bureau Of Criminal Identification (RIBCI).
Nevertheless, it is possible to get some criminal history information on other individuals without the need for consent. These are not very comprehensive and can be obtained from the courts as touched on earlier.
Several government agencies and professional bodies in Rhode Island such as municipalities, schools, board of nursing etc. require several professions such as caregivers, doctors and volunteers to complete background checks to ensure they don't possess Rhode Island criminal records.
Many occupations that require licensure from the state such as real estate appraisals and nurses will usually need background screenings completed.
These background checks are important as they:
Ensure Rhode Islanders receive the highest quality of service by hiring qualified and competent individuals.
They are also needed to ensure employees are trustworthy which helps safeguard communities as these checks prevent predatory characters from supervising vulnerable members of society such as minors and the elderly.
Background checks are also required for positions that are supervisory and executive in nature that allow the access of other employee's accounts and intellectual property.
Links in the table provide more detailed information in the submission process for background checks.
Agencies That Require Background Checks
Screening Reasons
State of Rhode Island Department of Education

Administrators
Teachers
Counselors
Support staff such as bus drivers, cleaners and cooks etc.
Volunteers

State of Rhode Island Department of Human Services

Foster parents
Adoptive parents
Medicine
Nursing
Midwifery
Social worker
Respiratory care
Pharmacy
Speech language pathology/therapy
Psychology
Volunteers
Clinical mental health counseling
Substance use disorder professionals
Adult day care program
Assisted living residence
Home care provider
Occupational therapy
Physical therapy
Recreational therapy
Interpreters and transliterators
Nursing home administrator
Assisted living
Administrator

State of Rhode Island Department of Health

Acupuncturists
Adult day care providers
Aquatic venues
Asbestos professionals
Assisted living
Athletic trainers
Barber
Hairdresser
Cosmetologist
Behavioral analysts
Birth centers
Blood testing screening programs
Chemical dependency professionals
Chiropractic
Dairy industry professionals
Dental professionals
Dialysis centers
Dietitians and nutritionists
Drinking water operators
Electrologists
Emergency medical service providers
Freestanding emergency care facility
Home care providers
Home nursing care providers
Hospice providers
Marriage health therapists
Family health therapists
Mental health therapists
Massage therapists
Medical marijuana
Midwives
Naturopathic physicians
Nurses
Nursing assistants
Nursing home administrators
Nursing homes
Nursing service agencies
Occupational therapists
Optometrists
Opticians
Pharmacies
Pharmacy professionals
Phlebotomy stations
Physical therapists
Physician assistants
Physicians
Podiatrists
Psychologists
Radiologic technologists
Radon professionals
Outpatient rehabilitation centers
Respiratory care professionals
Social Workers
Speech language pathologists
Audiologists
Surgery Centers
Tattoo Artists
Body Piercers
Veterinarians
X-ray Facilities

State of Rhode Island Department of Labor & Training

Barbers & cosmetologists
Behavioral health
Boiler operator program
Construction blaster program
Crane and/or hoisting operator program
Electrical
Elevator contractors, mechanics and Inspectors licensing program
Fire protection license program
Funeral service
Genetic counselor program
Outfitters
Real estate appraisers
Realty regulation
Sanitarians
Speech language pathologists and audiologists
Plumbers
Private security
Professional engineers and professional land surveyors
Psychologists
Public accountants
This table simply provides a sample of different government agencies and entities that require background checks for professions that fall under their jurisdiction—however, there are several other agencies and other employees that will require background checks.
All background checks in Rhode Island whether fingerprint or name based when done through the RIDCI, whether for personal reasons or employment purposes must have consent from the subject of the records and bound by Rhode Island laws.
They should also follow the policies set forth by the Fair Credit and Reporting Act (FCRA) and the Equal Employment Opportunity Commission (EEOC).
The EEOC prohibits employers from conducting background checks and using the information gathered to undermine equal employment opportunity to potential employees. This includes requiring employers to assess applicant's Rhode Island arrest records and/or convictions as they relate to the job applicant and the responsibilities of the job.
FCRA mandates that employers obtain a consent to conduct background checks from potential employees. Generally, the FCRA gives employees the right to review the results from the checks and rectify any mistakes and also to appeal any decisions that have been made resulting from the background checks. It also mandates the employer to inform in writing that they will conduct a background check.
How To Perform National Background Checks in Rhode Island (Fingerprint Based)
National background checks in Rhode Island are often a requirement for purposes of employment such as those outlined above and operation of some businesses—they are fingerprint based and are inclusive of out of state and federal criminal records.
Fingerprinting on finger print cards can either be done through a law enforcement agency or these USPS Fingerprinting Locations where they are submitted electronically.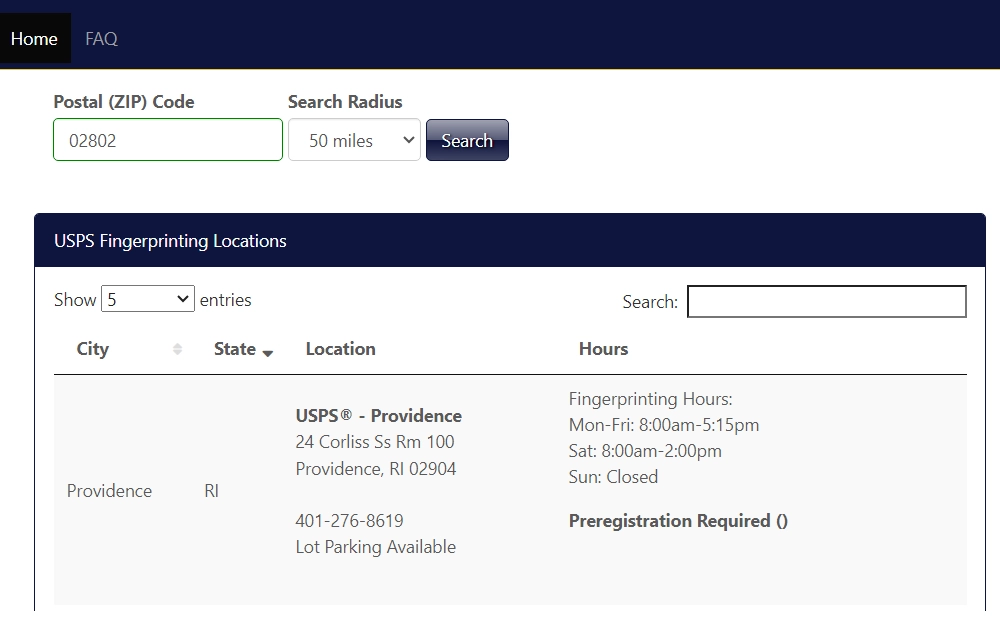 This can also be done at the Office of Attorney General where a fingerprint technician will use a LiveScan fingerprint machine to capture the prints and provide a copy. This costs $15 and can only be paid by debit/credit card.
Just like with name based searches, fingerprint based searched can be done via:
In-Person:
Requesters must read and are recommended to print and complete this Fingerprint Form before visiting the office.
Bring any additional paperwork required by the employer and/or statute.
Valid ID including state issued identification and driver license or a valid U.S. passport.
A technician will take the fingerprints as needed.
No appointments are necessary as this is a walk in service.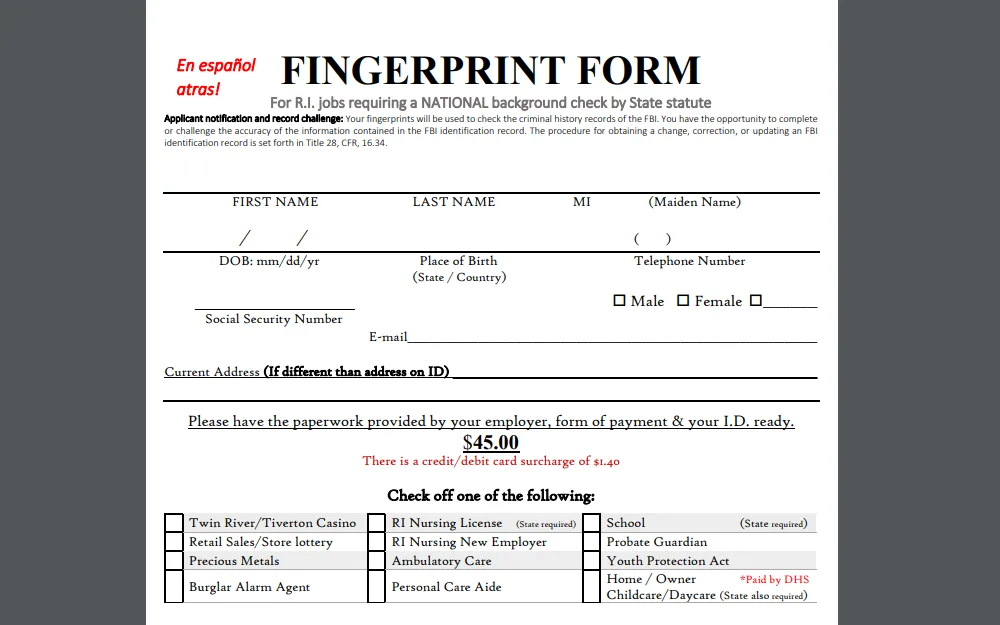 Mail:
To perform this type of check, a number of documents will need to be collected including:
A check or money order of $45.00 payable to the 'BCI' will need to be enclosed with the above documents. No cash and credit cards allowed.
A self-addressed envelope so that the request can be sent back.
All these documents will need to be mailed to:

Rhode Island Office of the Attorney General


Attn: Fingerprint Dept.
4 Howard Avenue
Cranston, RI 02920

Allow for 7 business days processing of the request.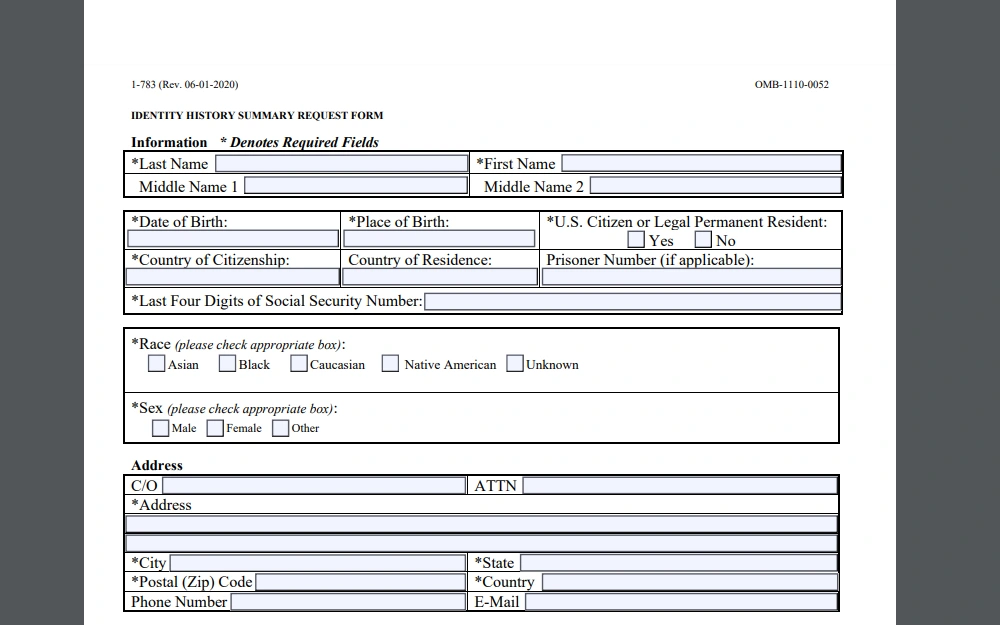 How To Perform State Background Checks in Rhode Island (Name Based)
These types of checks utilize the name and DOB of the subject of the record and only reflect Rhode Island arrest records and will not include out-of-state or federal offenses.
They can be done for personal reasons, but can also be done for someone else but with a signed and notarized release form for citizens wanting to find out if someone was arrested in the past.
State background checks can be done via:
In-Person:
Physically visit the Attorney General's Customer Service Center in Cranston located at:

Rhode Island Office of the Attorney General


4 Howard Avenue
Cranston, RI 02920

A valid form of government issued ID is required including state issued identification and driver license or a valid U.S. passport.
No appointment is necessary as it is a walk in service.
Mail:
To perform this type of check, a number of documents will need to be collected including:

Copy of a valid ID including state issued identification and driver license or a valid U.S. passport

A check or money order of $5.00 payable to the 'BCI' will need to be enclosed with the above documents.
A self-addressed envelope so that the results can be sent back.
All these documents will need to be mailed to:

Rhode Island Office of The Attorney General
4 Howard Ave
Cranston RI 02920

Allow for 7 business days processing of the request.12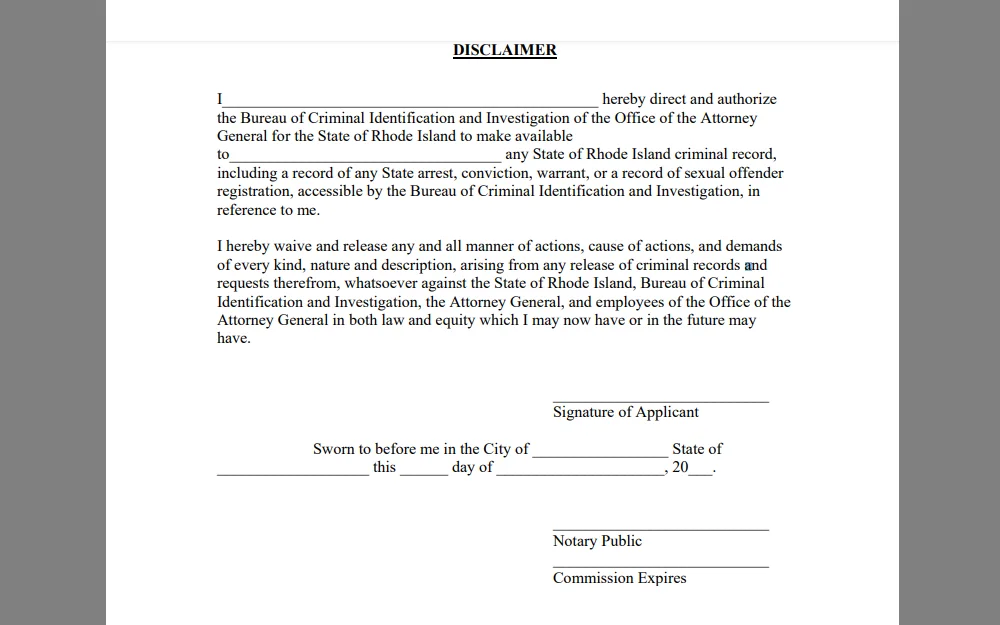 Searches Initiated by Others, Also Known as Third Party Searches:
To perform this type of check, a number of documents will need to be collected including:

Copy of a valid ID including state issued identification and driver license or a valid U.S. passport.
Copy of ID from agency or individuals that the notarized disclaimer is released to.

A check or money order of $5.00 payable to the 'BCI' will need to be enclosed with the above documents.
A self-addressed envelope so that the request can be sent back.
All these documents will need to be mailed to:

Rhode Island Office of The Attorney General
4 Howard Ave
Cranston RI 02920

Allow for 7 business days processing of the request.
The RIBCI does not have access to juvenile records and individuals seeking background checks on minors should consult the Rhode Island Family Court.
How To Navigate the Rhode Island Sex Offender Registry & Find Nearby Offenders
The State of Rhode Island State Police maintains an online database that contains information on persons convicted of sex offenses in the state due to the RI Sexual Offender Registration and Community Notification Act.19
As a result of the law, certain criminal convictions mandate the registration of a sexual offender. Additionally, local law enforcement agencies must make notifications of offenders' presence to all counties in RI or other jurisdictions.
To find persons convicted of sex crimes, citizens may use the Rhode Island Sex Offender Registry (RISOR).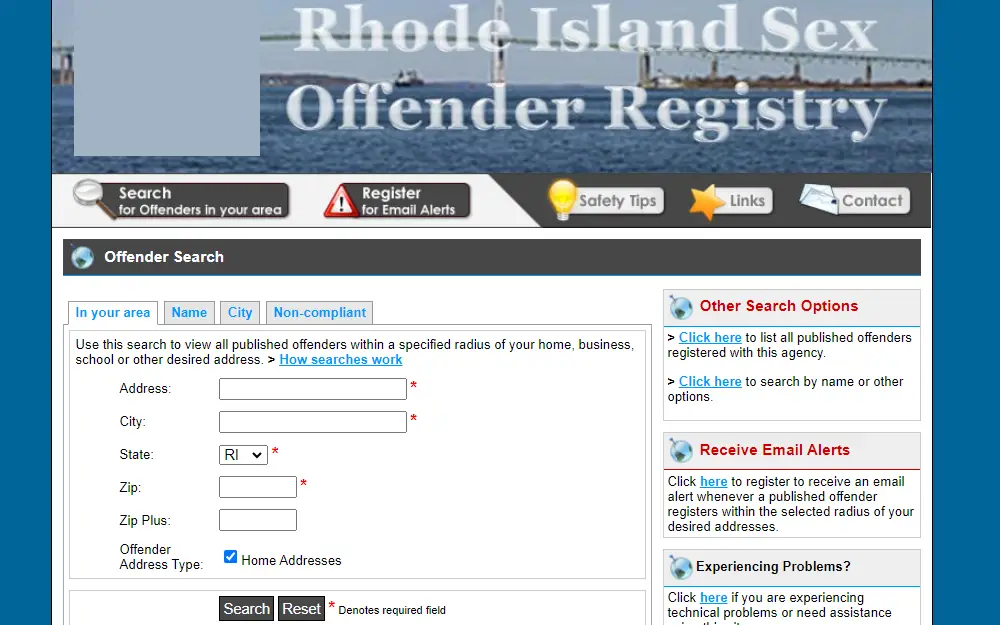 This people finder can be searched using 4 criteria namely:
Address Search—This finds sex offenders located within a radius of an address provided.
Name Search—The name search uses the last and first names if known.
City Search—This option allows users to locate offenders in a city that is inputted.
Non-Compliant Search—The non-compliant search facilitates finding offenders that have failed to register. It shows a list of these offenders, complete with mugshots.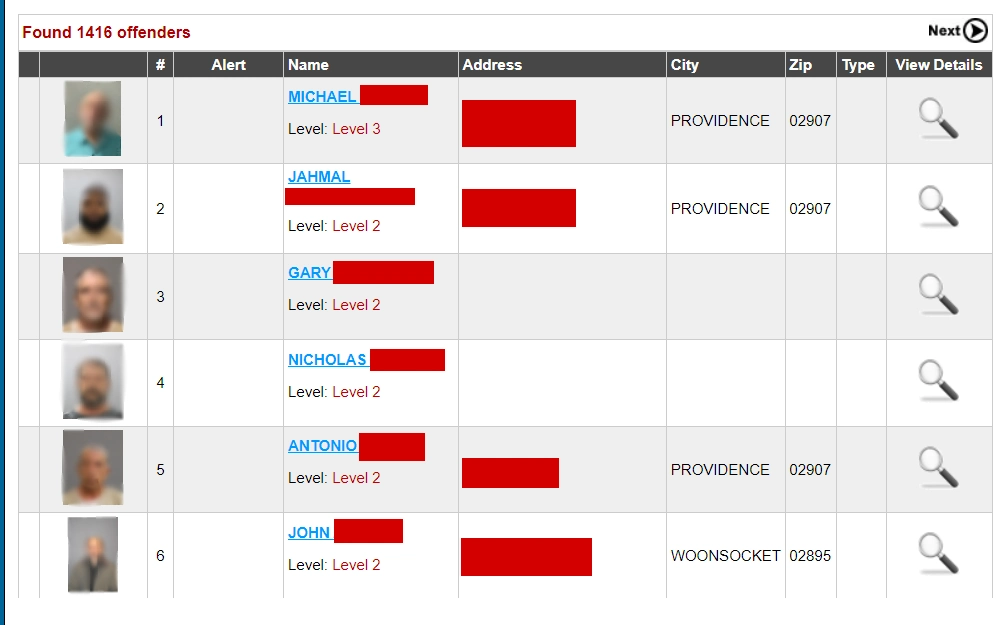 Residents of Exeter, RI may use the same search tool since the town of Exeter does not have a law enforcement agency.
Your Rights Regarding Criminal Records & Arrest Records Under Rhode Island (RI) Laws
Rhode Island is an open records state due to its Rhode Island Access to Public Records Act (APRA)—Chapter §38-2-1 and the FOIA allowing a vast array of criminal and arrest records to be made accessible to the public.
However, there are several federal and state laws that uphold citizens' rights such as privacy, which restricts access to certain criminal records from the public.
Laws applied include but are not limited to the Fair Credit Reporting Act's (FCRA) Summary of Rights and the Employment Opportunity Commission's (EEOC) Employee Rights. In addition, there are state laws such as ban the box that protect the rights of citizens when applying for employment in respect to their criminal histories.
The Fair Credit Reporting Act (FCRA)
The FCRA has a 7 year look back rule that mandates that consumer reporting agencies limit the reporting of an individual's criminal history within the most recent 7 years.
This rule will vary from state to state, and some states will have longer or shorter look back periods. Rhode Island has 7 year look back period for positions that pay less than $75,000 annually for:
Arrest records that did not result in convictions
Bankruptcies
Civil lawsuits and judgments
Liens
The Equal Employment Opportunity Commission (EEOC)
Criminal convictions will still show in a background check with the exception of sealed criminal records—if an employer rejects an applicant due to a criminal conviction that happened years before the application, they may find themselves violating EEOC mandates.
While employers can consider criminal records when making hiring decisions, they must not do so on a racial basis.
For example, an employer should choose not to hire an African American with a criminal conviction but instead hire an equally qualified Caucasian with similar convictions. This is because the EEOC enforces civil rights in the workplace to prevent discrimination on employees.
Employers have to assess the relevance of an applicant's criminal history and its relation to the responsibilities of a job. Also, employers should not refuse to hire someone simply because they got arrested as this is not proof they were convicted of a crime.
Citizens who think they have been discriminated against may file a charge/complaint with either the EEOC , the state or a local Fair Employment Practice Agency.20 There are strict time limits for these filings that will protect employee rights and therefore they have to be done ASAP. Typically, employers of the private sector with 15 or more employees are covered by EEOC laws.
Applicants filing against private, state and local government employers have 180 days to file from the alleged date of being discriminated against. Federal applicants have 45 days from the alleged date.
Expunctions
Citizens of Rhode Island who have successfully petitioned for an expungement of their criminal records are not required to disclose them to prospective employers.
Additionally, consumer reporting agencies (CRA's) and custodians of expunged records are prohibited from disclosing these records pursuant to RIGL § 12-1.3-4.
Juvenile Records
Pursuant to RIGL § 42-72-8, Rhode Island prohibits the disclosure of law enforcement records pertaining to juveniles and are kept separate from adult records—this includes arrest and detention records and all identifying information such as names, fingerprints, photographs and addresses.21
These records can only be accessed via court order. It is therefore not required for job applicants to disclose their juvenile criminal records to potential employers.
Ban-the-Box Laws
RI has a ban-the-box law in place for all its employees whether they be public or private; this is codified under RIGL § 28-5-7.22 This law prohibits prospective employers from inquiring about a job applicant's criminal history until the first interview in all counties in RI.
They may do so at the first interview and the law includes exceptions for positions in which an applicant would automatically be disqualified by law when they have a conviction and criminal history. Ban the box laws ensure that job applicants are initially judged by their qualifications and merits without the stigma of a criminal history they may have.
RIGL § 28-5-7 mandates fair employment practices making unlawful employment practice that discriminate employees in several aspects of employment including but not limited to:23
The recruitment, hiring and firing of employees.
Compensation and classification of employees.
Transfer, promotions and layoffs.
Retirement plans and disability leaves etc.
It is unlawful to perform personal named based criminal background checks without someone's consent in Rhode Island through the RIDCI for both name based and fingerprint based checks. Nevertheless, it is possible to check if someone has a criminal record for other persons from county courts and sheriff's offices which may include arrest records.
Background checks that are being completed for professional purposes such as employment, property management, licensing etc., must conform to federal and state laws such as those requiring consent from the subject of the record.
Rhode Island criminal records may prove challenging to find for citizens that lack the know-how of obtaining them since they are spread over several agencies and jurisdictions. Knowing the right way to obtain Rhode Island arrest records and subsequent criminal records of all types makes the process of obtaining them smoother and quicker irrespective of the county someone was charged or convicted in.
1Assembly, S. o. (2023). Access to Public Records. Retrieved 2023, from <http://webserver.rilegislature.gov/BillText/BillText23/HouseText23/H5454.pdf>
2State, U. D. (2023). The Freedom of Information Act. Retrieved 2023, from <https://foia.state.gov/learn/foia.aspx>
3Sheriff's, S. o.-D. (2023). Welcome to the Rhode Island Division of Sheriffs Website. Retrieved 2023, from <https://sheriffs.ri.gov/>
4Corrections, S. o.-D. (2023). For Inmates' Friends, Families, And Visitors. Retrieved 2023, from <https://doc.ri.gov/family-visitors>
5Corrections, S. o.-D. (2023). Visitation. Retrieved 2023, from <https://doc.ri.gov/family-visitors/visitation>
6Corrections, S. o.-D. (2023). Inmate Mail FAQ's. Retrieved 2023, from <https://doc.ri.gov/node/666>
7Corrections, S. o.-D. (2023). Phone Calls FAQ's. Retrieved 2023, from <https://doc.ri.gov/node/736>
8Assembly, S. o.-G. (2023, January). RELATING TO CRIMINAL PROCEDURE – BAIL AND RECOGNIZANCE. Retrieved 2023, from <https://webserver.rilegislature.gov/BillText23/SenateText23/S0375.pdf>
9Judiciary, R. I. (2023). Rules of Practice Governing Public Access to Electronic Case Information. Retrieved 2023, from <https://www.courts.ri.gov/efiling/PDF/Rules_Governing_Public_Access_to_Electronic_Case_Information.pdf>
10Judiciary, R. I. (2023). Access to Case Information. Retrieved 2023, from <https://www.courts.ri.gov/Pages/access-caseinfo.aspx>
11General, S. o.-A. (2023). Bureau of Criminal Identification and Investigation (BCI). Retrieved 2023, from <https://riag.ri.gov/about-our-office/divisions-and-units/bureau-criminal-identification-bci>
12General, S. o.-A. (2023). Get a background check. Retrieved 2023, from <https://riag.ri.gov/i-want/get-background-check>
13Corrections, S. o.-D. (2023). Probation & Parole. Retrieved 2023, from <https://doc.ri.gov/community-corrections/probation-parole>
14Board, S. o.-R. (2023). Parole Consideration. Retrieved 2023, from <https://paroleboard.ri.gov/parole-consideration-guidelines>
15General, S. o.-A. (2023). Expungements. Retrieved 2023, from <https://riag.ri.gov/community-outreach/expungements>
16Judiciary, R. I. (2023). CHAPTER 1.3. EXPUNGEMENT OF CRIMINAL RECORDS. Retrieved 2023, from <https://www.courts.ri.gov/Courts/districtcourt/PDF/ExpungeStatutes.pdf >
17Corrections, S. o.-D. (2023). Welcome. Retrieved 2023, from <https://doc.ri.gov/ >
18Prisons, F. B. (2023). Federal Bureau of Prisons. Retrieved 2023, from <https://www.bop.gov/>
19Legislature, S. o. (2023). Sexual Offender Registration and Community Notification. Retrieved 2023, from <http://webserver.rilegislature.gov//Statutes/TITLE11/11-37.1/INDEX.htm>
20Commission, U. E. (2023). Arrest and Conviction Records: Resources for Job Seekers, Workers and Employers. Retrieved 2023, from <https://www.eeoc.gov/arrestandconviction>
21Legislature, S. o. (1998, July 20). RELATING TO STATE AFFAIRS AND GOVERNMENT — DCYF RECORDS — CONFIDENTIALITY OF RECORD. Retrieved 2023, from <https://webserver.rilegislature.gov/PublicLaws98/law98374.htm>
22Legislature, S. o. (2023). Fair Employment Practices. Retrieved 2023, from <http://webserver.rilin.state.ri.us/Statutes/TITLE28/28-5/28-5-7.HTM>
23Training, S. o. (2023). Fair Employment Practices. Retrieved 2023, from <https://dlt.ri.gov/employers/fair-employment-practices>
24State of Rhode Island, Department of Corrections. (2023). Inmate Search. Search Results. Retrieved June 13, 2023, from <https://doc.ri.gov/inmate-search>
25Rhode Island Judiciary. (2019). Rhode Island Judiciary Public Portal. Smart Search. Search Criteria. Retrieved June 13, 2023, from <https://publicportal.courts.ri.gov/PublicPortal/Home/Dashboard/29#SmartSearchSS>
26Rhode Island Judiciary. (2023). Rhode Island Judiciary Public Portal. Case Summary. Retrieved June 13, 2023, from <https://publicportal.courts.ri.gov/app/RegisterOfActions/#/41ECF58F9D51834A075B9A3FE5C80BC37580285BB78F38C88552B37DA15C2903/anon/portalembed>
27State of Rhode Island, Office of the Attorney General. (2016). Disclaimer. Retrieved June 13, 2023, from <https://riag.ri.gov/media/1931/download?language=en>
28Rhode Island Judiciary. (2023, February). Instructions for Filing a Motion to Expunge or Seal Record. Retrieved June 13, 2023, from <https://www.courts.ri.gov/PublicResources/forms/District%20Court%20Forms/Motion%20to%20Expunge%20or%20Seal%20and%20Affidavit.pdf>
29State of Rhode Island, Office of the Attorney General. (2023). Expungement Online Application. Retrieved June 13, 2023, from <https://docs.google.com/forms/d/e/1FAIpQLSfl-ySNQNHbTTZafe7z2qEbPABU9snzwepc_acGYIwEjUNrOw/viewform>
30Federal Bureau of Prisons. (2023). Find an inmate. Retrieved June 13, 2023, from <https://www.bop.gov/inmateloc/>
31State of Rhode Island, Department of Corrections. (2023). Inmate Search. Retrieved June 13, 2023, from <https://doc.ri.gov/family-visitors/inmate-search>
32Rhode Island Judiciary. (2019). Rhode Island Judiciary Public Portal. Smart Search. Warrant Search Criteria. Retrieved June 13, 2023, from <https://publicportal.courts.ri.gov/PublicPortal/Home/Dashboard/29#SearchWarrantsSS>
33United States, Federal Bureau of Investigation. (2023). USPS Fingerprinting Locations. Retrieved June 13, 2023, from <https://www.edo.cjis.gov/#/org/USPS>
34State of Rhode Island, Office of the Attorney General. (2023). Fingerprint Form. Retrieved June 13, 2023, from <https://riag.ri.gov/media/3861/download?language=en>
35United States, Federal Bureau of Investigation. (2020, June 1). Identity History Summary Request Form. Retrieved June 13, 2023, from <https://forms.fbi.gov/identity-history-summary-checks-review/q384893984839334.pdf>
36Rhode Island Sex Offender Registry (RISOR). (2023). Offender Search. Retrieved June 13, 2023, from <https://www.icrimewatch.net/index.php?AgencyID=56404>
37Rhode Island Sex Offender Registry (RISOR). (2023). Offender Search: Results. Retrieved July 7, 2023, from <https://www.icrimewatch.net/results.php?SubmitAllSearch=1&AgencyID=56404>